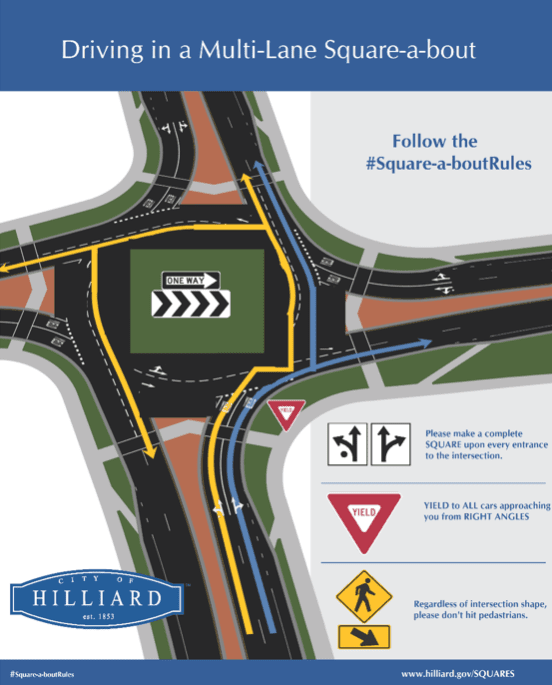 Hilliard City Council held an emergency meeting to alter all city intersections. Citing public outrage, the city will change all intersections, including roundabouts, to "square-a-bouts".
City Councilman Tom Baker indicated that public perception of the roundabouts was negative. "Listen, we tried with the roundabouts for a long time, but I can't tell you how many residents told me they were pointless. Well, they won't be able to say that about these squares. Seriously, the number one complaint I received from folks is that they couldn't wrap their heads around the previous intersections. So, as a response, the City decided to take the roundness out."
When reached for comment, Destination Hilliard Executive Director Tim Kauffman indicated that this was a way for Hilliard to show its strength compared to other Central Ohio communities. "This is an opportunity for the community to flex its muscles. After all, the square is amongst the strongest of shapes. Except for triangles—but that would be pandemonium. I believe this will make Hilliard a can't-miss Central Ohio destination."
Critics of the new ordinance cite complexity as a reason to keep the roundabouts. Local resident Johnny Dawson of Ameriprise Financial Services indicated "Squares, which have four sides, are infinitely more complex than circles, which have no sides."
While roundabouts and square-a-bouts were the main camps in the City Council intersection debates, there was a third radical group pushing for a different option. Brent Voss, of Heartland Bank, the leader of the triangular movement said "Personally, I just think the triangle would have been the strongest way for our town to go. These obtuse decisions by our City Council will not stand." When questioned as to the practicality of triangles for four-way intersections, Mr. Voss simply went off on a tangent only in capitalized letters. It appears the triangular group will refuse to cosine the bill.
Some residents seem indifferent and have other things on their mind. Local resident Jordan Kennedy states "Right angles? Right-of-ways? Who cares? The Council should be spending time on issues that matter, like the rules of the Municipal Pools."
The city reminds all residents that regardless of intersection shape, motorists should yield to pedestrians. Upon entering the square, motorists should look left, and occasionally right, and left again, and then move in a countersquarelike manner.
Expanding roundabouts into square-a-bouts will require more real estate than is currently available. As a result, the City will be exercising its legal right to eminent domain and taking surrounding real estate.
Will you or a loved one be affected by square-a-bouts? Feel like you're getting the run around? If so, contact the experienced square-a-bout lawyers at Lardiere McNair, LLC today.
*This is an April Fool's Day prank Blog. Nothing in this blog article is meant to be considered real. Happy April Fool's Day!
Chad Stonebrook is a Partner, and Jordan Kennedy is a former Associate, at Lardiere McNair, LLC. To read more about our firm, please visit www.lmcounsel.com.
The information presented here has been prepared by Lardiere McNair for promotional and informational purposes only and should not be considered legal advice. This information is not intended to provide, and receipt of it does not constitute, legal advice. Nor does the receipt of this material create an attorney/client relationship. An attorney client relationship is not established until such time as Lardiere McNair enters into a written engagement agreement with a specific client for a specific legal matter.
LEGAL NOTICE: THIS MESSAGE IS AN ADVERTISEMENT AND SOLICITATION. TO OPT OUT OF FUTURE MESSAGES, PLEASE REPLY TO: [email protected] WITH "UNSUBSCRIBE" OR SEND REGULAR MAIL TO:
LARDIERE MCNAIR, LLC
3956 BROWN PARK DRIVE, SUITE B
HILLIARD, OH 43026